5 Reasons why you should visit Thailand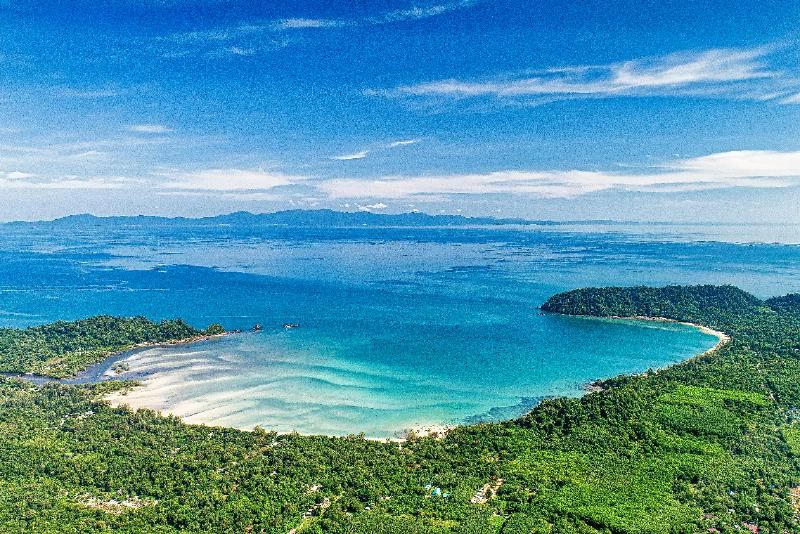 Buffalo Bay in Koh Phayam Island,Ranong
Thailand has recently been voted as "Best Tourist Country" from Swedish travelers at Grand Travel Award 2023. It is not a surprise that many fall in love with Thailand. Truth is Thailand is the country that has it all from budget to extravagance. Different regions are unique and offer varieties of activities to suit your traveling style. If you dream of beautiful beaches, stunning nature, delicious food and sunny weather, Thailand is the perfect choice for your adventure. There are reasons why Thailand has welcomed many visitors over the years and many are already looking forward to their next trip to Thailand. We gave you some of those secrets why you should come and fall in love with Thailand.
Thailand literally has it all and is all year round travel
Thailand is famous for beautiful beaches that welcome visitors all year. While most popular beach towns like Phuket, Khao Lak and Koh Lanta are perfect for winter escape. Koh Samui, Koh Phangan and Koh Tao are the summer secrets that you should not miss. Those who enjoy vibrant city life and metropolitan lifestyle should explore Bangkok. While others who seek rich history and culture should travel to Chiang mai or Chiang Rai in the north. Moreover, Thailand offers activities for everyone of all ages and lifestyles. Divers can discover underwater world in the south such as Trang. Adventure addicts can enjoy their outdoor hike and rock climbing in Krabi or Kanchanaburi. Golf lovers can challenge their swing in many golf courses around Thailand. Kids can enjoy their days learning local craft while grandparents can relax at the Thai spa. Traveling in Thailand is simple, and you can enjoy the diversity the country offers in just one trip.
Value for the money
With a tough economic situation, we are forced to choose. Traveling is one of the essences that we prefer not to cut but how we should spend the money that still makes most of the value. Thailand trip can be a great value for your money and your household budget. The living costs in Thailand are much lower than here. The airfare is only the biggest part of your travel cost, but other living costs in Thailand are much less. Thai's lifestyle allows us to spend work and leisure that fits the new norm of remote working while saving your budget and still earning the income. Moreover, traveling domestically is convenient and price-friendly since there are a wide range of low-cost airlines, buses and trains to choose from. Meaning that you can travel from north to south, experience beaches, historical sites and city break all in 1 trip. We gather the tips on how to save your travel budget here.
Many unseen destinations to explore
We encourage travelers to escape from the tourist routes and discover the unseen of Thailand. Not only will you find a destination that is different but also it will help the local community generate income as well as saving money in your pocket. Here are some of the examples;
Just a few hours up north from Khao Lak, a little island of Koh Phayam is an undiscovered beauty in the Andaman Sea. You can enjoy a calm atmosphere with untouched beaches and turquoise water. The island kept its authenticity with many local resorts and restaurants to choose from. Ban Krut (link to Ban Krut article- to be published), a village located south of Hua Hin, that can easily travel by train is another charming gem. Ban Krut is an excellent option for those looking for the authentic local getaway city with a slow pace-relaxation and miles of beaches. On the gulf coast, Chumporn coast town is "Thailand as it used to be" It offers stunning experiences such as snorkeling sites, mountainside viewpoints perfect for outdoorsy and off-the beaten path activity seekers. With over 200 kilometers of coastline,there are amazing beaches worth exploring here. If you want to experience a destination more exotic, we recommend Udon Thani in the North-east region. Udon Thani is known as one of the most bustling commercial cities in Isan. Visit magnificent Pink Lotus Lake that CNN Traveler ranks in the top 15 most unique lakes in the world. And stop by Samuay & Sons to test contemporary Isaan cuisine that is made from indigenous ingredients and recommended by both Michelin Guide and Asia's 50 Best Restaurants.
Meaningful experience
After the pandemic, people seek not only happiness in traveling but also meaningful time with their loved one and family. Thailand is an ideal destination for family, friends and even solo-travelers to spend quality time. Beautiful nature takes away your stress from everyday life while genuine Thai hospitality can uplift the wonderful memory of the journey. Learning the history of the local area can help you get in touch with the different cultures. Another way of making your trip to Thailand more than just a usual journey is by supporting local communities or saving the environment with "Meaningful travel". The booking platform helps support nature conservation and protect green spaces throughout Thailand with Big Trees Foundation.
Language to heart
Thai smiles and our friendliness take away the language barrier and win many hearts from visitors all over the world. Thai people are happily welcoming all the travelers to our home country just like you are one of our family members. No matter where you go or any trouble that you might get into, you are certain that you will always get the help you need. The services in Thailand also impressed many travelers. Friendliness and genuine hospitality is the real luxury of traveling nowadays. Thai food is also the language that has been spoken to people around the world. The unique linguistic of Thai flavor and aroma are familiar to most people. Yet many are longing for the authentic Thai taste in Thailand. To take a bite of good food needs no wording but a smile. Experiencing different Thai foods in different regions is another way to communicate the diversity of the culture. Thai people usually greet our guests asking, "If you have eaten?". Food has always been a big part of Thai's lifestyle.
For more inspiration for traveling to Thailand, please visit our website www.thecoloursofthailand.com.
Youtube : Amazing Thainess
—
Kantara S. Olofsson
Public Relation & Communication Coordinator
Tourism Authority of Thailand (TAT)
Stockholm Office
Drottninggatan 33 GF
111 51 Stockholm Swedenhttps
Vision: "Strategic Leader in Driving Thailand towards Experience-based and Sustainable Tourism."
Om Thailändska Turistbyrån
 Tourism Authority of Thailand (TAT) grundades 1960 och var den första organisationen i Thailand med särskilt ansvar att främja turismen i landet. Thailändska Turistbyrån i Stockholm etablerades 2002 och ansvarar för de nordiska och baltiska länderna. Thailändska Turistbyrån tillhandahåller reseinformation till allmänheten, resebyråer och media och arbetar även för att uppmuntra invånare i de nordiska och baltiska länderna att resa till Thailand. Läs mer om Thailändska Turistbyrån på www.tourismthailand.org/se.
Följ oss på Instagram och gilla oss på Facebook för senaste uppdateringen och hitta din inspiration.
Tendo AB deltar på investerarträff med Financial Stockholm den 29 mars 2023
Tendo AB ("Tendo" eller "Bolaget") genomför för närvarande en emission av units, vars teckningstid avslutas den 4 april 2023. Syftet med emissionen att finansiera förberedelser inför CE-märkning av Tendo OneGrip, produktoptimering, klinisk studie, dokumentation och regulatorisk process, samt marknadsbearbetning i Norden och förberedelser inför samarbetsavtal i marknader utanför Norden. Emissionsvolymen uppgår initialt till högst cirka 9,4 MSEK före transaktionskostnader. På onsdag, den 29 mars 2023, presenterar Bolagets VD Sofie Woge på investerarträff i Stockholm.
Investerarträff
Datum och tid: 29 mars 2023. Eventet startar kl. 17:30 och beräknas avslutas omkring kl. 20:30. Woges presentation pågår kl. 18:10-18:30.
Plats: Banérska Palatset i Kungsträdgården, Stockholm.
Anmälan: Anmälan till eventet görs här.
Arrangör: Financial Stockholm.
För mer information om företrädesemission, vänligen kontakta:
Sedermera Corporate Finance AB
Telefon: +46 (0)40 615 14 10
E-post: cf@sedermera.se
www.sedermera.se
För mer information om Tendo, vänligen kontakta:
Sofie Woge, VD, Tendo
Telefon: (+46) 760 – 21 22 13
E-post: sofie@tendoforpeople.se
Kort om Tendo
Tendo AB är ett medicintekniskt bolag som utvecklar medicintekniska robotiserade hjälpmedel till personer med funktionsnedsättningar i händerna. Bolagets första produkt, Tendo OneGrip, är en handske med integrerat exoskelett som ger styrka och rörlighet i händerna till personer med begränsad, eller saknad handfunktion till följd av en ryggmärgsskada. Bolaget är beläget i Lund i Sverige. Tendo AB är noterat på den svenska Spotlight Stock Market. Mer information på www.tendoforpeople.se.
Återköp av aktier av Truecaller B i vecka 12, 2023
Mellan den 20 mars 2023 och 24 mars 2023 har Truecaller AB (publ) (LEI-kod 549300TEYF1FA5G5GK26) återköpt sammanlagt 856 540 egna B-aktier (ISIN: SE0016787071) inom ramen för det återköpsprogram som styrelsen beslutat om.
Återköpen är en del av det återköpsprogram som Truecaller AB tillkännagav den 23 september 2022. Återköpsprogrammet löper under perioden 23 september 2022 till årsstämman 2023 och genomförs i enlighet med "Emittentregelverket".
Truecaller B-aktier har återköpts enligt följande:
| | | | |
| --- | --- | --- | --- |
| Datum: | Aggregerad daglig volym (antal aktier): | Viktat genomsnittspris per dag (SEK): | Totalt dagligt transaktionsvärde (SEK): |
| 20 mars 2023 | 143 960 | 30,6642 | 4 414 418,23 |
| 21 mars 2023 | 172 836 | 30,2998 | 5 236 896,23 |
| 22 mars 2023 | 215 276 | 29,9101 | 6 438 926,69 |
| 23 mars 2023 | 162 488 | 30,2608 | 4 917 016,87 |
| 24 mars 2023 | 161 890 | 30,1964 | 4 891 212,87 |
| Total ackumulerat under vecka 12/2023 | 856 540 | 30,2361 | 25 898 470,89 |
| Total ackumulerat under återköpsprogrammet | 10 230 592 | 34,2370 | 350 265 043,58 |
Samtliga förvärv har genomförts på Nasdaq Stockholm av SEB för Truecallers räkning. Efter ovanstående förvärv uppgår Truecallers innehav av egna aktier per den 24 mars 2023 till
10 230 592 B-aktier och 5 100 000 C-aktier. Det totala antalet aktier i Truecaller, inklusive egna aktier, är 379 059 710 och antalet utestående aktier, exklusive egna aktier, är 363 729 118.
Fullständig information om de genomförda transaktionerna biläggs detta pressmeddelande.
För mer information, kontakta gärna:
Andreas Frid, Head of IR & Communication
+46 705290800
andreas.frid@truecaller.com
Om Truecaller:
Truecaller är den ledande globala plattformen för att verifiera kontakter och blockera oönskad kommunikation. Vi möjliggör trygga och relevanta konversationer mellan människor och gör det effektivt för företag att nå konsumenter. Bedrägerier och oönskad kommunikation är vardag i digitala ekonomier och tillväxtmarknader i synnerhet. Vårt uppdrag är att skapa tillförlitlig kommunikation. Truecaller är en naturlig del av den dagliga kommunikationen för mer än 338 miljoner aktiva användare, har laddats ned mer än miljard gånger och har identifierat och blockerat omkring 50 miljarder oönskade samtal under 2022. Med huvudkontor i Stockholm sedan 2009, är vi ett entreprenöriellt företag som leds av medgrundarna och en mycket erfaren ledningsgrupp. Truecaller är noterat på Nasdaq Stockholm sedan 8 oktober 2021. För mer information besök gärna corporate.truecaller.com.
BioStock: WntResearchs vd om optionsprogrammet och NeoFox-studien
Utvecklingsbolaget WntResearch är just nu aktuellt med lösen i teckningsoptionen TO5. Kapitalinjektionen görs för att driva vidare fas IIb-studien med läkemedelskandidaten Foxy-5. I samband med BioStock Investor Meeting berättade bolagets vd Pernilla Sandwall om optionsprogrammet, förändringar i studieplanen och utfallet i bolagets emission.
Se hela videointervjun med Pernilla Sandwall på biostock.se:
https://www.biostock.se/2023/03/wntresearchs-vd-om-optionsprogrammet-och-neofox-studien/
Detta är ett pressmeddelande från BioStock – Connecting Innovation & Capital. https://www.biostock.se