Tagrisso achieved unprecedented survival in early-stage EGFR-mutated lung cancer, with 88% of patients alive at five yearsin ADAURA Phase III trial
Treatment with adjuvant Tagrisso reduced the risk of death by more than half.
Positive results from the ADAURA Phase III trial showed AstraZeneca's Tagrisso (osimertinib) demonstrated a statistically significant and clinically meaningful improvement in overall survival (OS), compared to placebo in the adjuvant treatment of patients with early-stage (IB, II and IIIA) epidermal growth factor receptor-mutated (EGFRm) non-small cell lung cancer (NSCLC) after complete tumour resection with curative intent.
These results will be presented today in an oral presentation during the Plenary Session at the 2023 American Society of Clinical Oncology (ASCO) Annual Meeting (abstract #LBA3).
Tagrisso reduced the risk of death by 51% compared to placebo in both the primary analysis population (Stages II-IIIA) (21% data maturity, OS hazard ratio [HR] of 0.49; 95.03% confidence interval [CI] 0.33-0.73; p=0.0004), and in the overall trial population (Stages IB-IIIA) (18% data maturity, OS HR of 0.49; 95.03% CI 0.34-0.70; p<0.0001).
In the primary analysis population, an estimated 85% of patients treated with Tagrisso were alive at five years compared to 73% on placebo. In the overall trial population, an estimated 88% of patients treated with Tagrisso were alive at five years compared to 78% on placebo. Median OS was not yet reached in either population or treatment group. Patients on placebo that recurred with metastatic disease had the opportunity to receive Tagrisso as a subsequent treatment.
Roy S. Herbst, MD, PhD, Deputy Director and Chief of Medical Oncology at Yale Cancer Center and Smilow Cancer Hospital, New Haven, Connecticut, US, and principal investigator in the trial, said: "These highly anticipated overall survival results, with 88 per cent of patients alive at five years, are a momentous achievement in the treatment of early-stage EGFR-mutated lung cancer. These data underscore that adjuvant treatment with osimertinib provides patients with the best chance of long-term survival."
Susan Galbraith, Executive Vice President, Oncology R&D, AstraZeneca, said: "Tagrisso cut the risk of death by more than half in the adjuvant setting, further establishing this transformative medicine as the backbone treatment for EGFR-mutated lung cancer. These results emphasise the importance of diagnosing patients with lung cancer early, testing for EGFR mutations and treating all those with an EGFR mutation with Tagrisso."
Summary of OS results: ADAURAi
Tagrisso

Placebo

Stages II-IIIA (primary population)

(n=233)

(n=237)

Median OS (in months)

Not reached

Not reached

Hazard ratio (95.03% CI)

0.49 (0.33-0.73)

p-value

0.0004

OS rate (%) (five years) (95% CI)

85 (79-89)

73 (66-78)

Stage IB-IIIA (overall population)

(n=339)

(n=343)

Median OS (in months)

Not reached

Not reached

Hazard ratio (95.03% CI)

0.49 (0.34-0.70)

p-value

<0.0001

OS rate (%) (five years) (95% CI)

88 (83-91)

78 (73-82)

i The data cut-off date was 27 January, 2023.
At the previously reported disease-free survival analysis, all patients had completed or discontinued treatment. The safety and tolerability of Tagrisso with extended follow-up were consistent with its established profile and previous analyses with no new safety concerns reported. Adverse events at Grade 3 or higher from all causes occurred in 23% of patients in the Tagrisso arm versus 14% in the placebo arm.
Notes
Lung cancer
Lung cancer is the leading cause of cancer death among both men and women, accounting for about one-fifth of all cancer deaths.1 Lung cancer is broadly split into NSCLC and small cell lung cancer.2 Each year there are an estimated 2.2 million people diagnosed with lung cancer globally with 80-85% of patients diagnosed with NSCLC, the most common form of lung cancer.1-3 The majority of all NSCLC patients are diagnosed with advanced disease while approximately 25-30% present with resectable disease at diagnosis.4-5 Early-stage lung cancer diagnoses are often only made when the cancer is found on imaging for an unrelated condition.6-7
For patients with resectable tumours, the majority eventually develop recurrence despite complete tumour resection and adjuvant chemotherapy.8 Further, 73% of patients with Stage IB and 56-65% of patients with Stage II disease will survive for five years.9 This decreases to 41% for patients with Stage IIIA, reflecting a high unmet medical need.9 Approximately 10-15% of NSCLC patients in the US and Europe, and 30-40% of patients in Asia have EGFRm NSCLC.10-12 These patients are particularly sensitive to treatment with an EGFR-tyrosine kinase inhibitor (EGFR-TKI) which block the cell-signalling pathways that drive the growth of tumour cells.13
ADAURA
ADAURA was a randomised, double-blind, placebo-controlled, global Phase III trial in the adjuvant treatment of 682 patients with Stage IB, II, IIIA EGFRm NSCLC following complete tumour resection and, at physicians' and patients' discretion, adjuvant chemotherapy. Patients were treated with Tagrisso 80mg once-daily oral tablets or placebo for three years or until disease recurrence.
The trial was enrolled in more than 200 centres across more than 20 countries, including the US, Europe, South America, Asia and the Middle East. The primary endpoint was DFS in Stage II and IIIA patients and key secondary endpoints included DFS in Stage IB, II and IIIA patients, and OS in both the primary and overall populations.
Though the primary data readout was originally anticipated in 2022, data from the trial were reported early following a recommendation from an Independent Data Monitoring Committee based on its determination of overwhelming efficacy.
In May 2020, AstraZeneca announced Tagrisso demonstrated a statistically significant and clinically meaningful improvement in DFS in this setting. In September 2022, updated results demonstrated a median DFS of nearly five and a half years.
Tagrisso
Tagrisso (osimertinib) is a third-generation, irreversible EGFR-TKI with proven clinical activity in NSCLC, including against central nervous system metastases. Tagrisso (40mg and 80mg once-daily oral tablets) has been used to treat nearly 700,000 patients across its indications worldwide and AstraZeneca continues to explore Tagrisso as a treatment for patients across multiple stages of EGFRm NSCLC.
Tagrisso is approved as monotherapy in more than 100 countries including in the US, EU, China and Japan. These include for 1st-line treatment of patients with locally advanced or metastatic EGFRm NSCLC, locally advanced or metastatic EGFR T790M mutation-positive NSCLC, and adjuvant treatment of early-stage (IB, II and IIIA) EGFRm NSCLC.
In May, Tagrisso demonstrated clinical benefit in combination with chemotherapy in the FLAURA2 Phase III trial in advanced EGFRm NSCLC.
In Phase III trials, Tagrisso is being tested in the neoadjuvant resectable setting (NeoADAURA), in the Stage IA2-IA3 adjuvant resectable setting (ADAURA2) and in the Stage III locally advanced unresectable setting (LAURA). AstraZeneca is also researching ways to address tumour mechanisms of resistance through the SAVANNAH and ORCHARD Phase II trials, and the SAFFRON Phase III trial, which test Tagrisso given concomitantly with savolitinib, an oral, potent and highly selective MET-TKI, as well as other potential new medicines.
AstraZeneca in lung cancer
AstraZeneca is working to bring patients with lung cancer closer to cure through the detection and treatment of early-stage disease, while also pushing the boundaries of science to improve outcomes in the resistant and advanced settings. By defining new therapeutic targets and investigating innovative approaches, the Company aims to match medicines to the patients who can benefit most.
The Company's comprehensive portfolio includes leading lung cancer medicines and the next wave of innovations, including Tagrisso and Iressa (gefitinib); Imfinzi (durvalumab) and Imjudo (tremelimumab); Enhertu (trastuzumab deruxtecan) and datopotamab deruxtecan in collaboration with Daiichi Sankyo; Orpathys (savolitinib) in collaboration with HUTCHMED; as well as a pipeline of potential new medicines and combinations across diverse mechanisms of action.
AstraZeneca is a founding member of the Lung Ambition Alliance, a global coalition working to accelerate innovation and deliver meaningful improvements for people with lung cancer, including and beyond treatment.
AstraZeneca in oncology
AstraZeneca is leading a revolution in oncology with the ambition to provide cures for cancer in every form, following the science to understand cancer and all its complexities to discover, develop and deliver life-changing medicines to patients.
The Company's focus is on some of the most challenging cancers. It is through persistent innovation that AstraZeneca has built one of the most diverse portfolios and pipelines in the industry, with the potential to catalyse changes in the practice of medicine and transform the patient experience.
AstraZeneca has the vision to redefine cancer care and, one day, eliminate cancer as a cause of death.
AstraZeneca
AstraZeneca (LSE/STO/Nasdaq: AZN) is a global, science-led biopharmaceutical company that focuses on the discovery, development, and commercialisation of prescription medicines in Oncology, Rare Diseases, and BioPharmaceuticals, including Cardiovascular, Renal & Metabolism, and Respiratory & Immunology. Based in Cambridge, UK, AstraZeneca operates in over 100 countries and its innovative medicines are used by millions of patients worldwide. Please visit astrazeneca.com and follow the Company on Twitter @AstraZeneca.
Contacts
For details on how to contact the Investor Relations Team, please click here. For Media contacts, click here.
References
World Health Organisation. International Agency for Research on Cancer. Lung Fact Sheet. Available at https://gco.iarc.fr/today/data/factsheets/cancers/15-Lung-fact-sheet.pdf. Accessed May 2023.

LUNGevity Foundation. Types of Lung Cancer. Available at https://lungevity.org/for-patients-caregivers/lung-cancer-101/types-of-lung-cancer. Accessed May 2023.

Cheema PK, et al. Perspectives on treatment advances for stage III locally advanced unresectable non-small-cell lung cancer. Curr Oncol. 2019;26(1):37-42.
Cagle P, et al. Lung Cancer Biomarkers: Present Status and Future Developments. Archives Pathology Lab Med. 2013;137:1191-1198.
Le Chevalier T, et al. Adjuvant Chemotherapy for Resectable Non-Small-Cell Lung Cancer: Where is it Going? Ann Oncol. 2010;21:vii196-vii198.
Sethi S, et al. Incidental Nodule Management – Should There Be a Formal Process? J Thorac Oncol. 2016:8;S494-S497.

LUNGevity Foundation. Screening and Early Detection. Available at https://lungevity.org/for-patients-caregivers/lung-cancer-101/screening-early-detection. Accessed March 2023.

Pignon JP, et al. Lung Adjuvant Cisplatin Evaluation: A Pooled Analysis by the LACE Collaborative Group. J Clin Oncol. 2008;26:3552-3559.
Goldstraw P, et al. The IASLC Lung Cancer Staging Project: Proposals for Revision of the TNM Stage Groupings in the Forthcoming (Eighth) Edition of the TNM Classification for Lung Cancer. J Thorac Oncol. 2016;11(1):39-51.
Szumera-Ciećkiewicz A, et al. EGFR Mutation Testing on Cytological and Histological Samples in Non-Small Cell Lung Cancer: a Polish, Single Institution Study and Systematic Review of European Incidence. Int J Clin Exp Pathol. 2013:6;2800-12.
Keedy VL, et al. American Society of Clinical Oncology Provisional Clinical Opinion: Epidermal
Growth Factor Receptor (EGFR) Mutation Testing for Patients with Advanced Non-Small-Cell Lung Cancer Considering First-Line EGFR Tyrosine Kinase Inhibitor Therapy. J Clin Oncol. 2011:29;2121-27.
Ellison G, et al. EGFR Mutation Testing in Lung Cancer: a Review of Available Methods and Their Use for Analysis of Tumour Tissue and Cytology Samples. J Clin Pathol. 2013:66;79-89.
Cross DA, et al. AZD9291, an Irreversible EGFR TKI, Overcomes T790M-Mediated Resistance to EGFR Inhibitors in Lung Cancer. Cancer Discov. 2014;4(9):1046-1061.
SBB stärker likviditeten med cirka 8 miljarder kronor och presenterar en decentraliserad koncernstruktur
Samhällsbyggnadsbolaget i Norden AB (publ) ("SBB" eller "Bolaget") säljer 1,16 procent av SBB EduCo AB ("EduCo") till Brookfield Super-Core Infrastructure Partners ("Brookfield") för cirka 242 miljoner kronor och blir en minoritetsägare. EduCo kommer återbetala delar av dess koncerninterna lån från SBB, vilket innebär att SBB erhåller en likvid om cirka 7,8 miljarder kronor. SBB har idag även beslutat om en decentraliserad koncernstruktur som förstärker transparens och finansieringsmöjligheter.
''Jag är mycket nöjd över att idag kunna presentera ett betydande likviditetstillskott och ett fortsatt starkt samarbete med Brookfield. Vidare skapar SBB en decentraliserad koncernstruktur som positionerar SBB för att ytterligare stärka bolagets balansräkning och för fortsatt tillväxt. Styrelsen avslutar härmed den strategiska översynen och SBB fokuserar nu på exekvering," säger Lennart Schuss, styrelseordförande för SBB.
Sammanfattning av EduCo-transaktionen
EduCo samägs av SBB och Brookfield och är den huvudsakliga plattformen för SBB:s affär inom den offentliga utbildningssektorn.
Som en del av transaktionen genomför EduCo en delvis återbetalning av det koncerninterna lånet från SBB med ett belopp om cirka 9,1 miljarder kronor samt potentiellt även en refinansiering av befintlig säkerställd skuld med ett belopp om högst cirka 6,9 miljarder kronor. Transaktionen resulterar i en likvid om totalt cirka 8 miljarder kronor till SBB, efter erläggande av kompensation för förtidsåterbetalning och transaktionskostnader. SBB kommer att ha ett kvarstående lån till EduCo om cirka 5,5 miljarder kronor. SBB avser använda likviden för att hantera närliggande finansiella åtaganden, inklusive avtalade investeringar, beslutade utdelningar samt låneförfall.
Efter genomförd avyttring om 1,16 procent av aktierna i EduCo till Brookfield kommer SBB att äga cirka 49,84 procent av EduCo. Som en följd av avyttringen kommer EduCo att kontrolleras av Brookfield och upphöra att vara ett dotterbolag till SBB och EduCo kommer inte att konsolideras i SBB:s räkenskaper.
Vidare, efter genomförd avyttring kommer EduCo att drivas fristående av sin styrelse bestående av representanter från SBB och Brookfield.
Transaktionen är föremål för sedvanliga fullföljandevillkor, inklusive konkurrensgodkännanden, och förväntas slutföras under oktober 2023.
Transaktionen understöds av EduCo:s sunda och stabila finansiella ställning och säkerställer att verksamheten fortsätter att vara en långsiktig leverantör av högkvalitativa utbildningsanläggningar i hela Norden. Brookfield är en mycket erfaren ägare av infrastrukturtillgångar globalt och investeringen i EduCo genom dess perpetual fund tillhandahåller långsiktigt, stabilt kapital för att stödja EduCo:s framtida tillväxt tillsammans med SBB för att EduCo ska kunna uppnå en investment grade-rating.
EduCo:s ambition är att på sikt enbart finansieras med långfristig kapitalmarknadsfinansiering med stark investment grade-rating.
Sammanfattning av EduCo
EduCo är en unik infrastrukturplattform inom offentlig utbildning med ett fokus på tillväxt inom den offentliga utbildningssektorn i Sverige, Danmark, Norge och Finland.
EduCo:s portfölj om 43 miljarder kronor består av fastigheter inom den offentliga utbildningssektorn i Norden (23,6 miljarder kronor GAV i Sverige, 16,0 i Norge, 2,2 i Finland och 1,0 i Danmark). Portföljen gynnas av långsiktiga hyresavtal med väldigt lågt byte av hyresgäster: 13 års viktad genomsnittlig återstående löptid.
Decentraliserad koncernstruktur
Den 29 maj 2023 beslutade SBB:s styrelse att påbörja en strategisk översyn av alternativ för att maximera värdet för SBB:s aktieägare. SBB presenterar idag en ny koncernstruktur som decentraliserar Bolaget genom etablering av helägda och delägda affärsenheter och avslutar därmed den strategiska översynen.
Koncernen kommer att bestå av tre affärsenheter: Utbildning, Samhälle och Bostäder. Affärsenheterna kommer att verka med ett tydligt fokus. Från och med Q3-rapporten kommer rapportering att ske enligt den nya koncernstrukturen. Implementeringen har ingen planerad inverkan på antalet anställda inom SBB.
''Idag presenterar vi en ny decentraliserad koncernstruktur. Den nya strukturen bygger på våra styrkor, adresserar våra utmaningar och grundar sig på ett antal viktiga slutsatser. SBB har i grunden en portfölj av högkvalitativa fastighetstillgångar med en stark underliggande utveckling och med attraktiva tillväxtutsikter. SBB gynnas av att skapa helägda eller delägda affärsenheter som på egna meriter kan anskaffa såväl eget som lånat kapital. Därför etablerar vi nu en ny decentraliserad koncernstruktur med syfte att öka SBB:s transparens och finansieringsmöjligheter, vilket i förlängningen maximerar aktieägarvärdet,'' säger Leiv Synnes, vd för SBB.
Den nya koncernstrukturen ska:
Öka tillgången till bankfinansiering.

Etableringen av enskilda affärsenheter kommer att stärka SBB:s finansiella flexibilitet avseende finansiering.

Möjliggöra anskaffning av eget kapital.

SBB kommer fortsätta utforska möjligheter att göra bostadsverksamheten till ett minoritetsägt bolag genom att ta in ytterligare ägare, med en målsättning att presentera en lösning under 2024, beroende på marknadsförhållandena.

Förbättra finansiell rapportering och transparens.

Decentraliseringen möjliggör förbättrad finansiell rapportering, tydligare specialisering, snabbare beslut, närmare samarbete med hyresgästerna och synliggörande av värden.
En översikt av den nya koncernstrukturen biläggs detta pressmeddelande och finns tillgänglig på SBB:s hemsida.
Rådgivare
Advokatfirman Vinge är legal rådgivare och DNB Markets och J.P. Morgan Securities Plc. finansiella rådgivare till SBB i samband med transaktionen. Linklaters är legal rådgivare till Brookfield.
För ytterligare information, vänligen kontakta:
Helena Lindahl, Finansdirektör, ir@sbbnorden.se, press@sbbnorden.se
Denna information utgör insiderinformation som Samhällsbyggnadsbolaget i Norden AB (publ) är skyldigt att offentliggöra enligt EU:s marknadsmissbruksförordning. Informationen lämnades, genom ovanstående kontaktpersons försorg, för offentliggörande den 24 september 2023 kl. 18:20 CEST.
Samhällsbyggnadsbolaget i Norden AB (publ) (SBB) är Nordens ledande fastighetsbolag inom social infrastruktur. Bolagets strategi är att långsiktigt äga och förvalta samhällsfastigheter i Norden och hyresreglerade bostadsfastigheter i Sverige samt att bedriva ett aktivt fastighetsutvecklingsarbete. Genom SBBs stora samhällsengagemang finner kommuner och andra intressenter en långsiktig samarbetspartner i bolaget. Bolagets B-aktie (symbol SBB B) och D-aktie (symbol SBB D) handlas på Nasdaq Stockholm, Large Cap. Mer information om SBB finns på www.sbbnorden.se.
Boken som ställer nya skakande frågor om Palmemordet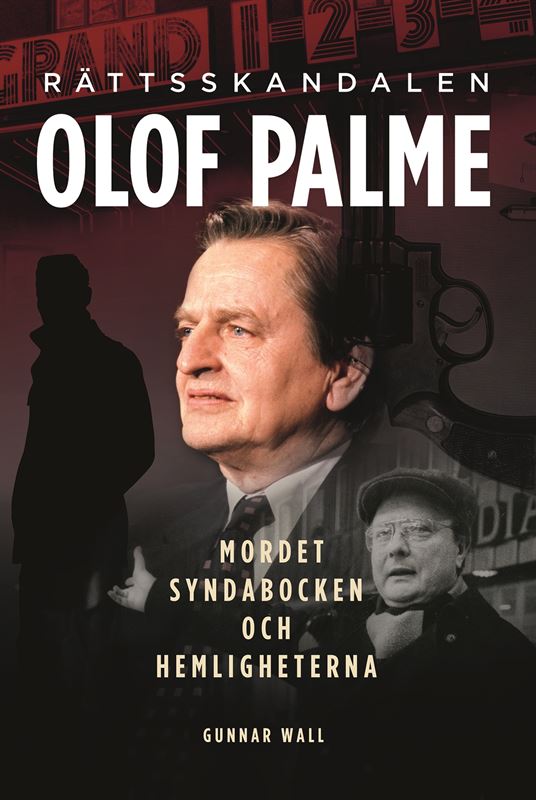 Den avlidne Stig Engström, Skandiamannen, kom att officiellt pekas ut som Palmemördare utan att ens få en försvarare.
Det avslutade en 34 år lång mordutredning. Poliserna i Palmegruppen hade sett tydliga tecken på en mordkomplott med möjliga trådar in i svenska staten och de hade arbetat hårt med att få fram sanningen. Men de fick dåligt med hjäp av andra myndigheter och personer som kunde vara inblandade ville inte prata. Till sist gav utredarna upp. Inget av detta dramatiska utredningsarbete redovisades på åklagarens avslutande presskonferens. Här kommer nu en ingående och delvis chockartad beskrivning av sådant åklagaren och Palmegruppen arbetat med innan de motvilligt släppte de känsliga frågorna.
Gunnar Wall är en av Sveriges främsta experter på mordet på Olof Palme och har arbetat med den här boken i tre år. Här berättar han om hur det egentligen gick till när utredningen av mordet på Sveriges statsminister fick sitt förbryllande slut.
Läs mer på Gunnar Walls blogg.
Utgivning: 2023-09-26 Isbn: 9789155272630
Bokförlaget Semic
08-799 30 50
info@semic.se
Press- och marknadskontakt: Cilla Wikström, cilla.wikstrom@semic.se

Bokförlaget Semic startade sin verksamhet i juni 1950. Vi ger ut cirka 80 böcker per år om mat och dryck, handarbete, hobby och inredning, blommor och trädgård, djur och natur, sport och fakta samt böcker för barn och ungdomar, kalendrar och julklassiker. Vi trycker våra böcker i stora upplagor, säljer dem till bra priser och når många läsare. Merparten av vår utgivning är svenska originalböcker. Bokförlaget Semics redaktion, marknadsavdelning och produktionsavdelning är förlagda till Sundbyberg. Bokförlaget Semic är en del av Bonnierförlagen AB.
Taggar:
Uppdatering skred vid E6 Stenungsund
Räddningstjänsten är fortsatt på plats vid skredet vid E6 Stenungsund.
Under gårdagen arbetade räddningstjänsten med eftersök av människor i de delar av området, där det varit möjligt, med hjälp av specialutbildad personal för ras och skred samt sökhundar. Ett antal personer hjälptes under gårdagen ur fordon på rasområdet med hjälp av räddningstjänstpersonal samt helikopter från Sjöfartsverket. Sökarbetet avslutades igår eftermiddag.
Räddningstjänsten har under natten och morgonen arbetat med att besikta den drabbade bensinstationen för att säkerställa om läckage kan ha skett och har för närvarande avfärdat att den skulle utgöra en miljöskada. Vi undersöker ett mindre dieselläckage från en lastbil. Tillsammans med Trafikverket och geotekniker pågår även en besiktning av ytterområden kring Norumsån för att se om det kan innebära ytterligare konsekvenser.
Under dagen kommer räddningstjänsten att medverka på ett samverkansmöte med kommunen på plats i Stenungsund.
Allmänheten uppmanas fortsatt att inte vistas i området och respektera avspärrningar.
Räddningstjänsten bedömer att vi kommer att vara kvar till imorgon måndag, och ny bedömning görs då av ytterligare insatser.
//Daniel Lyckelid, Vakthavande befäl