Farxiga improved symptom burden and health-related quality of life in patients with mildly reduced or preserved ejection fraction in DELIVER Phase III trial
Results presented at American Heart Association (AHA) Scientific Sessions 2022 and being published in the Journal of the American College of Cardiology.
Clinical benefits were observed within two weeks with Farxiga, highlighting the importance of early treatment initiation.
New findings from a pre-specified analysis of DELIVER Phase III trial data show that AstraZeneca's Farxiga (dapagliflozin) improved symptom burden and health-related quality of life in patients with heart failure (HF) and mildly reduced or preserved ejection fraction (EF) compared with placebo1. The results were presented today at the American Heart Association (AHA) Scientific Sessions 2022 in Chicago, Illinois, US, and are currently in press in the Journal of the American College of Cardiology.
In addition to the greater risk of death and hospitalisations, patients with HF and mildly reduced or preserved EF experience an especially high burden of symptoms and physical limitations, and a poor quality of life, which is why improving health status is a key goal of management1. In a prespecified analysis of the DELIVER Phase III trial, the Kansas City Cardiomyopathy Questionnaire (KCCQ) was utilised to examine the effects of Farxiga on a broad range of health outcomes1.
In the analysis, Farxiga, in addition to standard care compared with placebo, improved symptom burden, physical limitations and quality of life as measured by mean KCCQ scores, with benefits achieved as early as one month1. Benefits were sustained at eight months, with mean improvement in total symptom score of 2.4 points, physical limitations 1.9 points, clinical summary 2.3 points and overall summary 2.1 points higher than placebo (all p <0.001)1. Also at eight months, fewer patients treated with Farxiga compared to placebo had a significant deterioration, and more had at least small, moderate and large (at least 5-, at least 10- and at least 15-point, respectively) improvements in health status across evaluated KCCQ domains1. The benefits of Farxiga on cardiovascular (CV) death and worsening HF in patients with mildly reduced or preserved EF appeared especially pronounced in those with greater degree of symptomatic impairment at baseline1.
Dr. Mikhail Kosiborod, cardiologist at Saint Luke's Mid America Heart Institute, Vice President of Research at Saint Luke's Health System, Professor of Medicine at the University of Missouri-Kansas City, said: "Many patients living with heart failure value their symptoms and physical function at least equally with avoidance of death, making these results highly clinically relevant. Given the fact that individuals with heart failure and mildly reduced and preserved ejection fraction experience especially poor health status, the findings should prompt clinicians to strongly consider initiation of SGLT2 inhibitors in this group, particularly if patients are symptomatic."
The results support the 2022 joint HF guidelines issued by the American College of Cardiology, the American Heart Association and the Heart Failure Society of America, recommending broader use of sodium-glucose cotransporter 2 (SGLT2) inhibitors in clinical practice and earlier initiation of guideline-directed medical therapy2.
Furthermore, these data align with the recent JAMA Cardiology publication, Time to Clinical Benefit of Dapagliflozin in Patients With Heart Failure With Mildly Reduced or Preserved Ejection Fraction: A Prespecified Secondary Analysis of the DELIVER Randomized Clinical Trial, which demonstrated early and sustained reductions in clinical events in patients with HF and mildly reduced or preserved EF with statistically significant benefits observed within two weeks of treatment initiation3.
Mene Pangalos, Executive Vice President, BioPharmaceuticals R&D, AstraZeneca, said:
"Recently Farxiga became the first heart failure medication ever to demonstrate mortality benefit across the full ejection fraction range, and now we also have data from the DELIVER trial showing that the health-related quality of life of patients with heart failure is significantly improved. Coupled with the rapid clinical benefits seen within two weeks, the data support the use of Farxiga as foundational therapy and highlight key opportunities for clinicians to implement the guidelines and upgrade patient outcomes."
The safety and tolerability profile of Farxiga in the DELIVER Phase III trial was consistent with the well-established safety profile of the medicine4.
Notes
HF
HF is a chronic, long-term condition that worsens over time5. It affects nearly 64 million people globally with increasing prevalence and is associated with substantial morbidity and mortality6,7. Chronic HF is the leading cause of hospitalisation for those over the age of 65 and represents a significant clinical and economic burden8. There are several types of HF often defined by LVEF, a measurement of the percentage of blood leaving the heart each time it contracts, including: HF with reduced EF (HFrEF) (LVEF less than or equal to 40%), HF with mildly reduced EF (HFmrEF) (LVEF 41-49%) and HF with preserved EF (HFpEF) (LVEF greater than or equal to 50%)2. Approximately half of all HF patients have HFmrEF or HFpEF, with few therapeutic options available2,9.
DELIVER
DELIVER was an international, randomised, double-blind Phase III trial designed to evaluate the efficacy of Farxiga, compared with placebo, in the treatment of HF patients with LVEF greater than 40%, with or without type-2 diabetes (T2D)10. Farxiga was given once daily in addition to background therapy (regional standard of care for all comorbidities, including diabetes and hypertension, with the exception of concomitant use of a SGLT2 inhibitor)10. DELIVER is the largest clinical trial to date in HF patients with LVEF above 40%, with 6,263 randomised patients10.
The primary endpoint was the time to first occurrence of CV death, hospitalisation for HF or an urgent HF visit10. The secondary endpoint includes the total number of HF events and CV death, time to the occurrence of CV death and time to the occurrence of death from any cause10. In addition, KCCQ total symptom score was a pre-specified key secondary endpoint as well as physical limitations, clinical summary and overall summary and were evaluated at randomisation, 1, 4 and 8 months1.
Farxiga
Farxiga (dapagliflozin) is a first-in-class, oral, once-daily SGLT2 inhibitor. Research has shown Farxiga's efficacy in preventing and delaying cardiorenal disease, while also protecting the organs – important findings given the underlying links between the heart, kidneys and pancreas11-13. Damage to one of these organs can cause the other organs to fail, contributing to leading causes of death worldwide, including T2D, HF and chronic kidney disease (CKD)6,14-16.
Farxiga is approved for adults and children aged 10 years and above for the treatment of insufficiently controlled T2D mellitus as an adjunct to diet and exercise. Farxiga is also approved for the treatment of HFrEF and the treatment of CKD based on the findings of the DAPA-HF and DAPA-CKD Phase III trials.
DapaCare is a robust programme of clinical trials to evaluate the potential CV, renal and organ protection benefits of Farxiga. It includes more than 35 completed and ongoing Phase IIb/III trials in more than 35,000 patients, as well as more than 2.5 million patient-years' experience. Farxiga is currently being tested in patients without T2D following an acute myocardial infarction or heart attack in the DAPA-MI Phase III trial – a first of its kind, indication-seeking, registry-based, randomised controlled trial.
AstraZeneca in CVRM
Cardiovascular, Renal and Metabolism (CVRM), part of BioPharmaceuticals, forms one of AstraZeneca's main disease areas and is a key growth driver for the Company. By following the science to understand more clearly the underlying links between the heart, kidneys and pancreas, AstraZeneca is investing in a portfolio of medicines for organ protection and improving outcomes by slowing disease progression, reducing risks and tackling co-morbidities. The Company's ambition is to modify or halt the natural course of CVRM diseases and potentially regenerate organs and restore function, by continuing to deliver transformative science that improves treatment practices and CV health for millions of patients worldwide.
AstraZeneca
AstraZeneca (LSE/STO/Nasdaq: AZN) is a global, science-led biopharmaceutical company that focuses on the discovery, development, and commercialisation of prescription medicines in Oncology, Rare Diseases, and BioPharmaceuticals, including Cardiovascular, Renal & Metabolism, and Respiratory & Immunology. Based in Cambridge, UK, AstraZeneca operates in over 100 countries and its innovative medicines are used by millions of patients worldwide. Please visit astrazeneca.com and follow the Company on Twitter @AstraZeneca.
Contacts
For details on how to contact the Investor Relations Team, please click here. For Media contacts, click here.
References
Kosiborod MN, et al. The effects of dapagliflozin on symptoms, function and quality of life in patients with heart failure and mildly reduced or preserved ejection fraction: results from the DELIVER Trial. Presented at: American Heart Association (AHA) Scientific Sessions 2022, 5-7 November 2022, Chicago, Illinois, USA.

Heidenreich PA, et al. 2022 AHA/ACC/HFSA Guideline for the Management of Heart Failure: A Report of the American College of Cardiology/American Heart Association Joint Committee on Clinical Practice Guidelines. Circulation. 2022;145:e895–e1032.
Vaduganathan M, et al. Time to Clinical Benefit of Dapagliflozin in Patients With Heart Failure With Mildly Reduced or Preserved Ejection Fraction: A Prespecified Secondary Analysis of the DELIVER Randomized Clinical Trial. JAMA Cardiol. 2022; 2380-6583.

Solomon S, et al. Dapagliflozin in Heart Failure with Mildly Reduced or Preserved Ejection Fraction. N Engl J Med 2022.

Cleveland Clinic [Internet]. Heart Failure; [cited 2022 Oct 06] Available from:

https://my.clevelandclinic.org/health/diseases/17069-heart-failure-understanding-heart-failure

.

Vos T, et al. Global, regional, and national incidence, prevalence, and years lived with disability for 328 diseases and injuries for 195 countries, 1990–2016: A systematic analysis for the Global Burden of Disease Study 2016. Lancet. 2017;390(10100):1211–59.
Mozaffarian D, et al. Heart disease and stroke statistics—2016 update. Circulation. 2016;133(4):e38–360.
Azad N, et al. Management of chronic heart failure in the older population. J Geriatr Cardiol. 2014;11(4):329–37.
Dunlay SM, et al. Epidemiology of heart failure with preserved ejection fraction. Nat Rev Cardiol. 2017;14(10):591–602.
Solomon SD, et al. Dapagliflozin in heart failure with preserved and mildly reduced ejection fraction: rationale and design of the DELIVER trial. Eur J Heart Fail. 2021;23(7):1217–25.
McMurray JJV, et al. Dapagliflozin in patients with heart failure and reduced ejection fraction. N Engl J Med. 2019;381(21):1995–2008.
Heerspink HJL, et al. Dapagliflozin in patients with chronic kidney disease. N Engl J Med. 2020;383(15):1436–46.
Wiviott SD, et al. for the DECLARE-TIMI 58 Investigators. Dapagliflozin and cardiovascular outcomes in type-2 diabetes [article and supplementary appendix]. N Engl J Med. 2019;380(4):347–57.

Mayo Clinic [Internet]. Heart failure, 2020; [cited 2022 Oct 06]. Available from:

https://www.mayoclinic.org/diseases-conditions/heart-failure/symptoms-causes/syc-20373142

.

Centers for Disease Control and Prevention (CDC) [Internet]. A snapshot: Diabetes in the United States, 2020; [cited 2022 Oct 06]. Available from:

https://www.cdc.gov/diabetes/library/socialmedia/infographics/diabetes.html

.

National Institute of Diabetes and Digestive and Kidney Diseases (NIDDK) [Internet]. Heart disease & kidney disease, 2016; [cited 2022 Oct 06]. Available from:

https://www.niddk.nih.gov/health-information/kidney-disease/heart-disease

.
Hemsö accelererar samarbete med proptechbolaget Vyer: "Digitala tvillingar blir navet för att arbeta datadrivet i drift och förvaltning"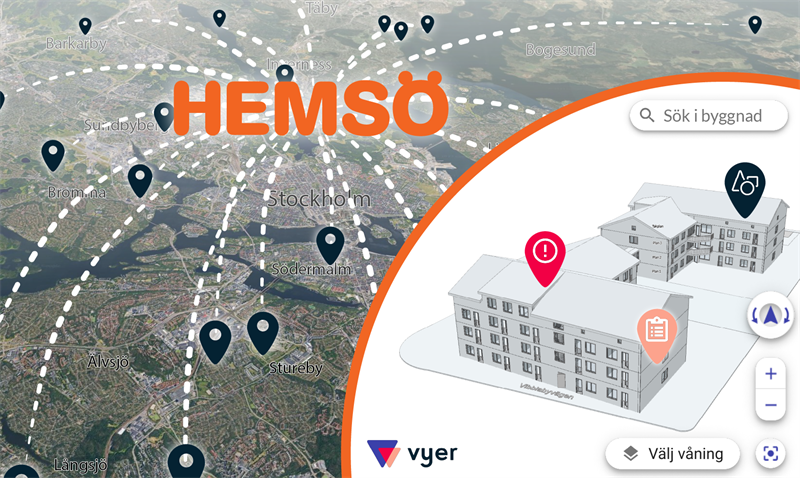 Efter ett pilotprojekt med Vyer satsar Hemsö på att införa digitala tvillingar för drift och förvaltning i hela beståndet. Hittills har ritningar för nära 200 byggnader moderniserats och ett omfattande arbete för att koppla ihop tvillingarna med data från andra system pågår.
– Nu har vi kommit upp i en kritisk massa där vi kan börja jobba med kraften av en digital tvilling på riktigt, säger Fredrik Hörnsten, CDO på fastighetsbolaget.
Hemsö, som har en uhyrningsbar area på 2,2 miljoner kvm, har flera pågående digitala satsningar för att effektivisera bolagets informationshantering. Under det senaste året har de valt att skala upp sitt samarbete med proptechbolaget Vyer gällande digitala tvillingar.
Digitala tvillingar för nära 200 byggnader finns tillgängliga och omkring 400 drifttekniker och förvaltare har åtkomst till Vyers plattform, där de får tillgång till korrekta ritningar, såväl som uppdaterad och relevant byggnadsinformation.
– Vi tar ett helhetsgrepp för att i högre grad kunna förvalta på distans och övergå till mer datadrivna arbetssätt för att effektivisera drift och förvaltning, säger Fredrik Hörnsten.
Tvillingarna fungerar nu som nav för att samordna, strukturera och dela information som är viktig för drift och förvaltning. Insamlingen av data sker dels genom importer och integrationer mot andra system, men även genom att medarbetarna själva bidrar med kunskap genom så kallad "crowdsourcing av data".
Kollektiv kartläggning av fastighetsdata (crowdsourcing)
Metoden gör att lokala förvaltare, med hög kännedom om Hemsös fastigheter och prioriterad information, snabbt kan samla in stora mängder data och hålla den uppdaterad.
– De digitala tvillingarna hjälper mig att bli en mer digital förvaltare. För vissa fastigheter kan jag spara upp till 4 timmar på att slippa köra fram och tillbaka om rätt data finns i tvillingen och det har vi själva möjlighet att påverka nu, säger Johan Tollbom, teknisk förvaltare på Hemsö.
Det löser bland annat utmaningar som tidigare funnits kring tidskrävande och kostsam ajourhållning av ritningar och dokumentation av annan byggnadsdata, såsom utrymmen och utrustning, planerat underhåll med mera.
– De digitala tvillingarna bidrar med en visuell kontext som både gör det enkelt för medarbetare att ta till sig information och vara delaktiga i kartläggningen, säger Fredrik Hörnsten.
Sammankoppling av system skapar nya värden
Projekt pågår även för att koppla samman tvillingarna med andra system. Bland annat har data för tusentals hyresobjekt hämtats från Hemsös system för hyresadministration. Förvaltningsorganisationen får därmed en visuell överblick över vilken hyresgäst som sitter var, hur stort antal kvadratmeter de nyttjar och betalar för, samt vilka ytor som är vakanta.
Tvillingarna används även för att ge kartstöd till Hemsös befintliga system för felanmälan, för snabbare felsökning och åtgärd. Insamlingen av platsdata gör över tid att det går att se trender i vilken utrustning som går sönder ofta, för att kunna arbeta förebyggande och fatta bättre beslut inköp.
– Styrkan ligger i ekosystemet där den spatiala databasen, tvillingens geografiska detaljer, binds samman med harmoniserad data från andra system. Det gör att vi kan förändra hur vi arbetar med driften, den tekniska och ekonomiska förvaltningen, säger Fredrik Hörnsten.

Hemsös digitala tvillingar i siffror
800 000 kvm digitalt tillgängliga (BTA)

100 byggnader med komponenter (teknik, sensorer m.m.) kartlagda av medarbetare

3300 hyresobjekt

700 felanmälningar i karta från hyresgäst

600 ritningsändringar (uppdaterad av arkitekt inom en vecka)

375 användare
Om Hemsö
Hemsö är Sveriges ledande ägare av samhällsfastigheter med en uthyrbar area på 2,2 miljoner kvm. Bolaget äger förvaltar och utvecklar fastigheter för äldreboende, utbildning, vård och rättsväsende.
Om Vyer.com
Vyer grundades 2016. Det Stockholmsbaserade proptechbolaget tillhandahåller en SaaS-plattform (Software As A Service) som hjälper fastighetsägare att samla och organisera byggnadsinformation i digitala tvillingar.
Styrelsen utvärderar det offentliga uppköpserbjudandet från TEXEL
TEXEL Energy Storage AB ("TEXEL") har den 19 mars 2023 offentliggjort ett uppköpserbjudande till aktieägarna i Swedish Stirling AB (publ) ("Swedish Stirling" eller "Bolaget") att överlåta samtliga aktier i Swedish Stirling till TEXEL ("Erbjudandet").
Acceptfristen för Erbjudandet förväntas inledas omkring den 24 april 2023 och avslutas omkring den 2 juli 2023. Styrelsen noterar den indikativa tidplanen och bedömer att Bolagets finansiella situation för närvarande inte medger att Bolaget fortsätter verksamheten under en sådan utdragen period. Styrelsen kommer att utvärdera och offentliggöra sin uppfattning om Erbjudandet i enlighet med tillämpliga frister i takeover-regelverket.
För ytterligare information vänligen kontakta:
Styrelsens ordförande, Swedish Stirling AB, 031-385 88 30, ir@swedishstirling.com
Om Swedish Stirling AB
Swedish Stirling AB är listat på Nasdaq First North Premier och FNCA Sweden AB är utsedd Certified Adviser, +46(0)8-528 00 399, info@fnca.se. Läs mer på www.swedishstirling.com
Byggbranschen måste delta i skapandet av en mer hållbar framtid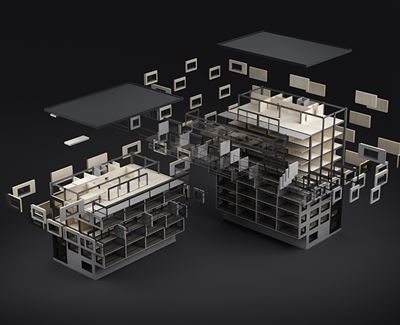 Byggbranschen förbrukar globalt sett ungefär hälften av alla naturresurser och byggnader står för nästan 40 % av alla utsläpp av växthusgaser. En ökad användning av träprodukter kan hjälpa byggbranschen att minska sitt koldioxidavtryck.
Resursbegränsningar, förlust av biologisk mångfald och klimatförändringar tvingar samhällen att gå över till mer hållbara och miljömässigt ansvarsfulla lösningar. Detsamma gäller för byggbranschen, som måste hitta nya lösningar genom att modernisera sina metoder.
Kombination av byggnadsmaterial för att skapa bästa möjliga resultat
Beroendet av fossila bränslen kan minskas genom att använda byggmaterial mer effektivt och genom att öka användningen av träprodukter i byggandet. Detta har många fördelar, till exempel att träprodukter lagrar kol, minskar koldioxidutsläppen och är materialeffektiva. Allt trä som Metsä Wood använder är spårbart och kommer från ansvarsfullt förvaltade Nordiska skogar. När träden växer absorberar de koldioxid från atmosfären och binder kol. För varje träd som avverkas planteras fyra nya plantor under återbeskogningsprocessen, vilket skapar framtida kolsänkor. Kolet lagras i trädet under hela dess livstid. När trämaterialet återvinns, t.ex. för energiändamål, frigörs det lagrade kolet tillbaka till atmosfären, där det åter tas upp av träden genom fotosyntesen.
"Trä är ett material med låga utsläpp som gör att det kan bidra till byggbranschens hållbarhetsmål. Det är viktigt att använda trämaterialet där det lämpar sig som bäst. Alla byggmaterial har sina egna fördelar, men en ökad användning av trä spelar en viktig roll för att mildra klimatförändringarna", säger Henrik Söderström, försäljnings- och marknadsdirektör på Metsä Wood.
Träbaserade material skapar mer hållbara lösningar
Trä är ett förnybart material som ger upphov till mindre utsläpp än andra material som till exempel betong eller stål. Träbaserade produkter som Kerto® LVL är lätta, materialeffektiva och hjälper till att göra byggandet mer effektivt.
Kerto LVL-produkter är väl lämpade för prefabricerade konstruktioner och kan ge materialbesparingar på upp till 50 procent. Kerto LVL-baserade skivor är tunnare, vilket förbättrareffektiviteten av ytan, samt flexibiliteten i användningen. Med en bra utformning kan byggnader som byggts med Kerto LVL-element flyttas och återanvändas för andra ändamål senare.
"Ett bra exempel på återanvändning av byggnader är den tillfälliga saluhallen på Östermalm i Stockholm. Takkonstruktionen tillverkades av Kerto LVL där den cirkulära ekonomin togs i beaktande, och efter att ha haft funktionen som saluhall i några år flyttades byggnaden 50 mil, till Mölnlycke, och blev padelhall. I det här projektet visade Kerto LVL sin utmärkta lämplighet som material för återanvändbara element, fortsätter Söderström.
Läs mer
För pressbilder, vänligen besök: https://databank.metsagroup.com/l/wVSK8XFTxsrB
För mer information kontakta:
Henni Rousu, Marketing Director, Metsä Wood
tel. +358 40 554 8388, henni.rousu@metsagroup.com
Metsä Wood
www.metsagroup.com/sv/metsawood
Metsä Wood är en av Europas ledande tillverkare av förädlade träprodukter. Vi bearbetar värdefullt timmervirke till miljövänliga produkter för bygg- och transportbranschen, som båda är megatrenddrivna verksamheter för framtiden. Våra huvudprodukter omfattar Kerto® LVL, björk- och granplywood samt andra träprodukter. Materialeffektiva träprodukter lagrar koldioxid och spelar en viktig roll när det gäller att motverka klimatförändringar.

2022 uppgick vår försäljning till cirka 0,7 miljarder euro, och vi har omkring 1 550 medarbetare. Metsä Wood ingår i Metsä Group.
Följ Metsä Wood: Twitter | Facebook | LinkedIn | Instagram | Pinterest