Tudorza reduces exacerbations and demonstrates cardiovascular safety in COPD patients
må, dec 04, 2017 08:04 CET
Phase IV ASCENT trial meets primary endpoints in COPD patients 
with cardiovascular risk factors

Findings support supplemental New Drug Application (sNDA)

AstraZeneca today announced positive top-line results of the Phase IV ASCENT trial for
Tudorza

Pressair
(aclidinium bromide 400 μg, twice-daily), a long-acting muscarinic antagonist (LAMA), in patients with moderate to very severe chronic obstructive pulmonary disease (COPD), with a history of cardiovascular disease and/or significant cardiovascular risk factors.
When added to background therapy,
Tudorza
met the primary efficacy endpoint, demonstrating a statistically significant reduction in the annual rate of moderate or severe COPD exacerbations compared to placebo.
Tudorza
also met the primary safety endpoint, demonstrating time to first major adverse cardiovascular event (MACE) comparable to placebo. In the trial patients were randomised to receive
Tudorza
or placebo.
Tudorza
, also marketed as
Eklira
and
Bretaris
, is available in more than 50 countries. Aclidinium bromide is also the LAMA in
Duaklir
(aclidinium bromide/formoterol fumarate), which is marketed in more than 30 countries and under development for the US and China.
Steve Lewington, Global Medicine Leader, Respiratory, AstraZeneca, said: "The ASCENT data demonstrate that
Tudorza,
when added to background therapy, reduces exacerbation rates in patients with cardiovascular disease or risk factors and adds to the established efficacy and safety profile of aclidinium bromide. Based on these results, AstraZeneca plans to submit an sNDA for an expanded label for
Tudorza
in the US."
Dr. Kenneth Chapman, Professor of Medicine in the Faculty of Medicine University of Toronto, said: "Cardiovascular disease is the most common comorbidity for patients living with COPD. It is therefore very encouraging to see that aclidinium is effective in reducing exacerbation rates with no increase in cardiovascular events in this at-risk patient population."
ASCENT is a post-marketing requirement (PMR) trial requested by the US Food and Drug Administration (FDA) to evaluate MACE for up to three years with aclidinium bromide. The trial included more than 3,600 patients from Canada and the US. The safety and tolerability profile of
Tudorza
was consistent with its label.
A full analysis of the data is ongoing. Full results will be provided to the US FDA and presented at a forthcoming medical meeting. AstraZeneca plans to submit an sNDA for an expanded
Tudorza
label.
In April 2017, AstraZeneca entered a strategic collaboration with Circassia Pharmaceuticals for the development and commercialisation of
Tudorza
and
Duaklir
(aclidinium bromide/formoterol) in the US.
– ENDS –
NOTES TO EDITORS

About COPD

COPD is a progressive disease associated mainly with tobacco smoking, air pollution or occupational exposure, which can cause obstruction of airflow in the lungs resulting in debilitating bouts of breathlessness. It affects an estimated 329 million people worldwide and is predicted to be the third leading cause of death by 2020. Improving lung function, reducing exacerbations and managing daily symptoms such as breathlessness are important to the management of COPD. Cardiovascular comorbidities are one of the most frequent systemic manifestations that have the biggest effect on patients with COPD, contributing substantially to disease progression, clinical outcomes, mortality and resource use.
About ASCENT

ASCENT is a double-blind, randomised, placebo-controlled, parallel-group, Phase IV trial to evaluate the effect of
Tudorza
on time to first MACE and reduction of moderate or severe exacerbations in patients with moderate to very severe COPD. Both
Tudorza
and placebo were administered twice-daily (morning and evening) via the
Pressair
dry-powder inhaler (DPI). Patients in the trial also continued background therapy including maintenance and reliever medications and excluding anticholinergics. The rate of moderate or severe COPD exacerbations was measured per patient per year during the first year of treatment. MACE is a composite measure of the total of cardiovascular death, non-fatal heart attack and non-fatal stroke. ASCENT was conducted in 3,630 patients and concluded after at least 122 patients had experienced an adjudicated MACE.
About
Tudorza

Tudorza
(aclidinium bromide) is a LAMA delivered through the
Pressair
DPI.
Tudorza
was approved in the US in 2012 for the long-term maintenance treatment of bronchospasm associated with COPD, including chronic bronchitis and emphysema. Aclidinium bromide was approved in Europe in 2012 for the maintenance treatment of COPD. Globally, it is now available to patients in more than 50 countries under the
Tudorza, Eklira
and
Bretaris
brand names. Aclidinium bromide is the LAMA in
Duaklir
(aclidinium bromide/formoterol fumarate)
,
which is approved in more than 30 countries and under development for the US and China. 
About Circassia

In April 2017, AstraZeneca entered a strategic collaboration with Circassia Pharmaceuticals for the development and commercialisation of
Tudorza
and
Duaklir
in the US. Under the terms of the collaboration Circassia was granted the rights to
Duaklir
in the US. Circassia is also leading the promotion of
Tudorza
in the US and was granted an option to gain the full commercial rights in the future. AstraZeneca has received a minority equity stake in Circassia. AstraZeneca will complete ongoing development activities and continue to manufacture and supply both medicines. AstraZeneca will receive $100 million at the approval of
Duaklir
in the US, or 30 June 2019, whichever is earliest, and Circassia will pay AstraZeneca tiered percentage royalties on potential future US sales of
Duaklir
.
About AstraZeneca in Respiratory Disease

Respiratory disease is one of AstraZeneca's main therapy areas, and the Company has a growing portfolio of medicines that reached more than 18 million patients in 2016. AstraZeneca's aim is to transform asthma and COPD treatment through inhaled combinations at the core of care, biologics for the unmet needs of specific patient populations, and scientific advancements in disease modification.
The Company is building on a 40-year heritage in respiratory disease and AstraZeneca's capability in inhalation technology spans both pMDIs and dry powder inhalers, as well as the innovative Aerosphere Delivery Technology. The company's biologics include
Fasenra
(anti-eosinophil, anti-IL-5Rɑ), which is now approved in the US, received a positive CHMP opinion in the EU and is under regulatory review in Japan, tralokinumab (anti-IL-13), which has completed Phase III trials, and tezepelumab (anti-TSLP), which successfully achieved its Phase IIb primary and secondary endpoints. AstraZeneca's research is focused on addressing underlying disease drivers focusing on the lung epithelium, lung immunity and lung regeneration.
About AstraZeneca

AstraZeneca is a global, science-led biopharmaceutical company that focuses on the discovery, development and commercialisation of prescription medicines, primarily for the treatment of diseases in three therapy areas – Oncology, Cardiovascular Metabolic Diseases and Respiratory. The Company also is selectively active in the areas of autoimmunity, neuroscience and infection. AstraZeneca operates in over 100 countries and its innovative medicines are used by millions of patients worldwide.
For more information, please visit
www.astrazeneca.com
and follow us on Twitter @AstraZeneca.
Hedersrelaterat våld och förtryck – ny metod för varaktig förändring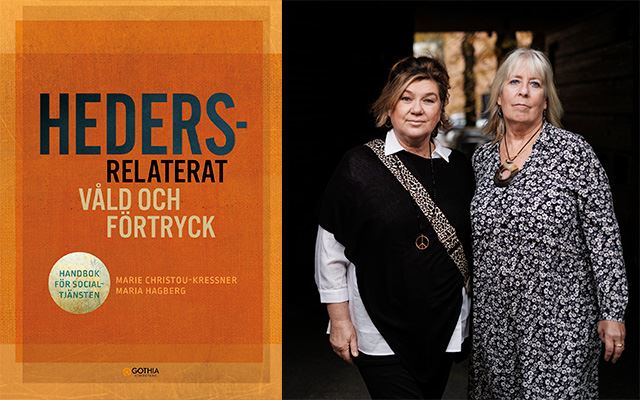 Hedersrelaterat våld och förtryck (HVF) är ett komplext och utbrett samhällsproblem som innebär stora utmaningar för socialtjänsten. Marie Christou-Kressner och Maria Hagberg, som båda har gedigen erfarenhet av socialt arbete med HVF, ser det som en viktig del i det aktiva integrations- och jämställdhetsarbetet. Nu kommer deras bok Hedersrelaterat våld och förtryck – handbok för socialtjänsten. Den visar en metod för hur socialtjänsten kan arbeta för att möjliggöra varaktig förändring för utsatta och deras familjer.
Hedersrelaterat våld och förtryck är ett område omgärdat av myter, fördomar och ryktesspridning. Det finns till exempel en allmän uppfattning om att det inte går att arbeta förebyggande eller behandlande med familjerna, att hotet är konstant och att en återförening efter placering därför aldrig är möjlig.
– Det råder stor brist på kunskap om insatser för förändring när det gäller hedersrelaterat våld och förtryck. Vi har arbetat länge med detta och vet att det i många svenska kommuner sedan flera år pågår ett aktivt familjearbete med familjer som lever i en hederskontext men att arbetet sker med skiftande kvalitet. Det råden en stor osäkerhet om hur man ska möta dessa familjer så vår arbetsmetod är efterfrågad, säger Marie Christou-Kressner som bland annat har arbetat i Botkyrka utanför Stockholm.
Boken Hedersrelaterat våld och förtryck – handbok för socialtjänsten bygger på beprövad erfarenhet och är ett led i att formalisera arbetet med familjebehandling. Den ger konkreta processer och verktyg och belyser handläggningen från anmälan och utredning till uppföljning och avslut.
– Vi vet att både varaktig förändring och säkra återföreningar är möjligt. I vår bok visar vi ett teambaserat, humanistiskt och rättssäkert arbetssätt med jämställda insatser för familjer med en hedersproblematik, understryker Maria Hagberg.
Metoden som introduceras i boken bygger på framgångsfaktorer och många års beprövad erfarenhet. Innehåll och utmaningar i detta långsiktiga arbete exemplifieras med fallbeskrivningar. Familjebehandlingen redovisas i tre faser och pågår samtidigt som myndighetens arbete – det teambaserade arbetssätt som författarna menar är grundläggande för framgång.
Boken fungerar både kunskapshöjande och som ett stöd för dem som möter individer och familjer med HVF-problematik inom eller på uppdrag åt socialtjänsten. Även sjukvård, polis och rättsväsende samt frivilligorganisationer har nytta av den. Studenter och utbildare inom socialt arbete är ytterligare en målgrupp.
Om författarna
Marie Christou-Kressner är familjebehandlare, steg 1-utbildad i psykoterapi och verksam inom socialtjänsten sedan tjugor år tillbaka.
Maria Hagberg är magister i socialt arbete, steg 1-utbildad i psykoterapi, utbildad i social ekonomi och socialpedagog med trettio års erfarenhet av utrednings- och behandlingsarbete inom socialtjänsten.
Om boken
Titel: Hedersrelaterat våld och förtryck – handbok för socialtjänsten
ISBN: 978-91-7741-330-1
Sidor: 128
Utgivning: 5 maj 2023
Pris: 350 kr exkl. moms
Boken finns hos bokhandlare på nätet och i butik samt på www.gothiakompetens.se
Presskontakt
Pia Leufstedt
Projektledare Marknad Vård & Omsorg
pia.leufstedt@gothiakompetens.se
072-050 39 04
För en bättre dag på jobbet
Gothia Kompetens – kompetensutveckling och kunskapsförmedling för och av oss som jobbar med förskola, skola, vård och omsorg. Tillsammans utvecklar vi både verksamheter och människorna i dem. Verksamhetsnära kompetensutveckling – för en bättre dag på jobbet.
Taggar:
Diagonal Bio AB presenterar på Investerarmötet på Banérska palatset den 29 mars 2023
På onsdag den 29 mars 2023 deltar Diagonal Bio AB (publ) ("Diagonal" eller "Bolaget") på Investerarmötet på Banérska palatset i Stockholm. Jack Egelund Madsen, Bolagets VD, presenterar Diagonals verksamhet och ger en uppdatering på senaste händelser i Bolaget.
Ställ frågor till Diagonals VD Jack Egelund Madsen
Frågor kommer att förmedlas av moderatorn Peter Malmström i samband med frågestunden efter presentationen.
Frågor kan skickas innan presentationen eller ställas under frågestunden via mejl till ulf.norr@fsmarkets.se.
Information om Investerarmötet
Tid: 17:30 29 april 2023
Plats: Västra Trädgårdsgatan 11 A intill Kungsträdgården på Norrmalm i Stockholm
Anmälan: Läs mer om eventet och anmäl dig [här].

För mer information om Diagonal Bio AB, vänliga kontakta:
Jack Egelund Madsen, VD
Telefon: +46 (0) 73 526 27 59
E-post: jem@diagonalbio.com
www.diagonalbio.com
Certified Adviser
Svensk Kapitalmarknadsgranskning AB
E-post: ca@skmg.se
Diagonal Bio AB grundades 2020 och är ett svenskt bioteknikbolag med säte och kontor i Lund. Bolaget utvecklar plattformen Panviral för att detektera och diagnostisera små sektioner av patogengenom, exempelvis virus, bakterier och svampar. Bolaget grundades med målsättningen att minska mänskligt lidande genom att med egenutvecklad teknik revolutionera global diagnostik av patogenburna sjukdomar.
Alpcot har tecknat en avsiktsförklaring om att finansiera Tydligas tillväxt och får en styrelseplats
Alpcot Holding AB (publ) ("Alpcot") har ingått en avsiktsförklaring med Tydligas moderbolag Free Broker i Norden AB ("Free Broker") om att investera upp till 25 miljoner kronor i Tydliga. I takt med att kapitalbehov uppstår framöver är avsikten att Alpcot tecknar nyemitterade aktier i Free Broker eller Tydliga till marknadsmässiga villkor som fastställs i samband med emissionerna. Alpcots verkställande direktör Björn Bringes kommer även få en styrelseplats i Tydliga.
Tydliga AB ("Tydliga") är ett av Sveriges största företag inom finansiell rådgivning utanför banksektorn med över 300 försäkringsförmedlare och investeringsrådgivare över hela Sverige. Tydligas rådgivare har ca 300 000 underliggande kunder och fullmakt för ca 280 miljarder kronor inom olika försäkringsskal. Tydliga arbetar huvudsakligen som en serviceorganisation åt sina rådgivare. Tydliga växer med lönsamhet men flera medlemsbolag står idag inför generationsskiften, vilket öppnar för en möjlighet att Tydliga köper flera av sina medlemsbolag. I denna konsolidering uppstår ett finansieringsbehov för Tydliga.
Alpcot och Tydliga ingick en strategisk allians i oktober 2020 bestående av både ett samarbete inom investeringsrådgivning samt etablerande av ett korsägande. Båda parter är mycket nöjda med samarbetet och arbetar gemensamt för att bredda och fördjupa samarbetet. Alpcot äger idag 18,2 % direkt och indirekt i Tydliga. Alpcot utvärderar olika möjligheter för att säkra finansiering för den tilltänkta investeringen i Tydliga.
Alpcot ser investeringen i Tydliga som en mycket intressant finansiell placering mot bakgrund av det stora värdeskapande som sker inom Tydliga. Alpcot och Tydliga planerar aktivt att börja realisera de stora synergier som finns mellan parterna, vilket även ger investeringen en strategisk dimension.
"Alpcot vill aktivt bidra till den mycket positiva utvecklingen inom Tydliga. Därtill finns det en mycket intressant möjlighet att fördjupa samarbetet mellan Alpcot och Tydliga och ta vara på alla synergier. Sammantaget finns mycket goda förutsättningar till ett stort värdeskapande de närmsta åren både inom Alpcot och Tydliga," kommenterar Björn Bringes, VD i Alpcot.
Kontaktperson
Björn Bringes
Verkställande direktör
bjorn.bringes@alpcot.se
+46 73 8000 647
Om Alpcot
Alpcots verksamhet i Sverige startades 2014. Alpcot är en av Sveriges ledande plattformar för privatekonomi och leder den digitala transformeringen av finansbranschen i Sverige. Vår digitala plattform erbjuder kunderna unika tjänster som gör det möjligt att sänka sina avgifter, optimera sina investeringar och hantera personliga risker. Vi ger även råd till företagskunder kring tjänstepensionsplaner och tillhörande riskförsäkringar. Alpcot har ca 40 anställda i Sverige fördelat på kontor i Stockholm, Jönköping, Göteborg och Malmö. Alpcot har tillstånd från Finansinspektionen som försäkringsdistributör och värdepappersbolag. Välkommen att läsa mer på www.alpcot.se.