Everfuel receives grant for building eight hydrogen stations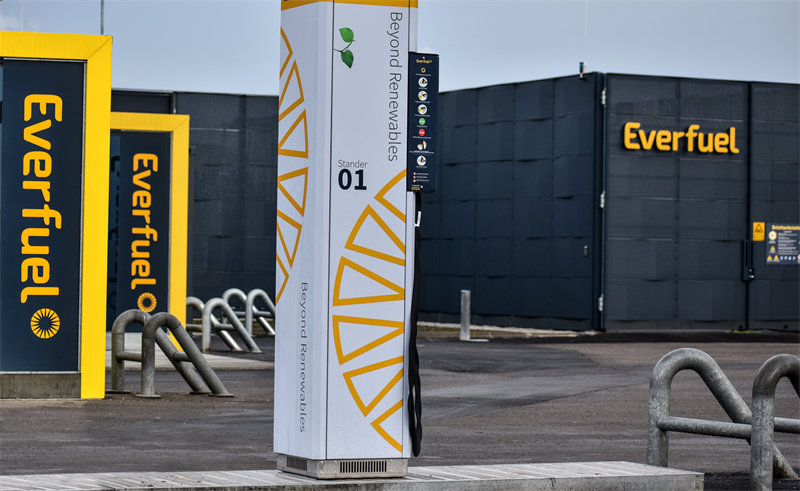 Herning, Denmark, 13 September 2022 – Everfuel A/S is pleased to announce that the company has received € 7.67 million in partial funding for eight hydrogen refuelling stations.
The funding is provided by the EU CEF AFIF program and will support the roll-out of hydrogen infrastructure across Northern Europe. Of the eight stations it is expected that one will be built in Germany, two in Sweden and five in Denmark.
The eight stations are a part of the GREATER4H project led by STRING, which will deploy a total of 14 hydrogen refuelling stations along the main traffic corridor from Hamburg to Oslo (TEN-T Scandinavian-Mediterranean core network corridor). The two hydrogen refuelling stations in Norway are not funded by CEF. All stations will be able to supply 350 and 700 bar dispensers, which will allow the refuelling of passenger vehicles and heavy-duty vehicles.
"With the funding from CEF we are one step closer to decarbonise the European road transport. Rolling out a network of accessible hydrogen stations is key to solving the "chicken or egg" issue and offering an alternative to driving on fossil fuels. We are happy to contribute to achieving both European and national emission reduction targets, and have already secured the location for two of the eight stations," says Jacob Krogsgaard, the CEO of Everfuel.
Background
STRING is a membership organisation that connects local governments from Germany, Denmark, Sweden, and Norway, to collaborate on cross-border infrastructure development, facilitate the green transition in the transport sector and accelerate innovation and export in green tech. Everfuel was invited by STRING to participate in the GREATER4H project as one of three private partners for providing hydrogen refuelling stations.
For additional information, please contact
Lea Vindvad Hansen, Investor Relations & Communications Manager, Everfuel, lha@everfuel.com
About Everfuel | www.everfuel.com
Everfuel is making green hydrogen for zero emission mobility commercially available across Europe, offering competitive all-inclusive hydrogen supply- and fueling solutions. We own and operate green hydrogen infrastructure and partner with vehicle OEMs to connect the entire hydrogen value chain and seamlessly provide hydrogen fuel to enterprise customers under long-term contracts. Green hydrogen is a 100% clean fuel made from renewable energy and key to electrification of the transportation sector in Europe and a sustainable future. We are a young ambitious company, headquartered in Herning, Denmark, and with activities in Norway, Denmark, Sweden, The Netherlands, Germany and Belgium, and a plan to grow across Europe. Everfuel is listed on Euronext Growth in Oslo under EFUEL.
Större ras på E6 vid Stenungsundsmotet
Ett större ras har inträffat på E6 i höjd med Stenungsundsmotet, raset är enligt uppgift cirka 150 meter långt. Larmet inkom till räddningsjänsten 01:48.
Ett antal personer och fordon samt byggnader är drabbade. Skadeläget är i nuläget oklart. Räddningstjänst är på plats med ett flertal enheter liksom polis och ambulans.
Vägen är avstängd i både riktningar och bedöms vara avstängd under en längre tid. Risk för ytterligare skred kan inte uteslutas. Trafikanter och allmänhet ombeds undvika området.
Nordea Bank Abp: Återköp av egna aktier den 22.09.2023
Nordea Bank Abp
Börsmeddelande – Förändringar i återköpta aktier 22.09.2023 kl. 22.30 EET
Nordea Bank Abp (LEI-kod: 529900ODI3047E2LIV03) har den 22.09.2023 slutfört återköp av egna aktier (ISIN-kod: FI4000297767) enligt följande:
| Handelsplats (MIC-kod) | Antal aktier | Viktad snittkurs/aktie, euro*, ** | Kostnad, euro*, ** |
| --- | --- | --- | --- |
| XHEL | 42 611 | 10,35 | 440 836,36 |
| CEUX | 103 710 | 10,38 | 1 075 995,64 |
| XSTO | 42 089 | 10,38 | 436 836,18 |
| XCSE | 9 758 | 10,35 | 101 013,69 |
| Summa | 198 168 | 10,37 | 2 054 681,87 |
* Växelkurser som använts: SEK till EUR 11,8532 och DKK till EUR 7,4570
** Avrundat till två decimaler
Den 26 april 2023 tillkännagav Nordea ett program för återköp av egna aktier till ett värde av högst 1,0 md euro med stöd av det bemyndigande som gavs av Nordeas ordinarie bolagsstämma 2023. Återköpet av egna aktier utförs genom offentlig handel i enlighet med Europaparlamentets och rådets förordning (EU) nr 596/2014 av den 16 april 2014 (marknadsmissbruksförordningen) och Kommissionens delegerade förordning (EU) 2016/1052.
Efter de redovisade transaktionerna innehar Nordea 2 292 844 egna aktier för kapitaloptimeringsändamål och 4 787 315 egna aktier för ersättningsändamål.
Uppgifter om respektive transaktion finns som en bilaga till detta meddelande.
För Nordea Bank Abp:s räkning,
Morgan Stanley Europé SE
För ytterligare information:
Matti Ahokas, chef för investerarrelationer, +358 9 5300 8011
Mediefrågor, +358 10 416 8023 eller press@nordea.com
S2Medical AB (publ) återtar överklagan och inlämnar ny rekonstruktionsansökan
S2Medical AB (publ) meddelar idag att Bolaget har återtagit sin överklagan av Göta hovrätts beslut till Högsta domstolen beträffande Bolagets rekonstruktionsansökan. Anledningen är den förväntade långa handläggningstiden kopplat till Högsta domstolens höga arbetsbelastning. Av strategiska skäl har Bolaget i stället valt att inlämna en ny ansökan om företagsrekonstruktion till Linköpings Tingsrätt för att snabbare kunna adressera företagets nuvarande utmaningar.
Denna information är sådan som S2Medical AB är skyldigt att offentliggöra enligt EU:s marknadsmissbruksförordning (EU nr 596/2014). Informationen lämnades, genom angiven kontaktpersons försorg, för offentliggörande 2023-09-22 20:49 CET.
Kontaktuppgifter
Petter Sivlér – CEO, S2Medical AB (publ)
Telefon: +46 (0)8-70 000 50
E-post: petter.sivler@s2m.se
Certified Adviser
Vator Securities AB
Telefon +46 (0)8-580 065 99
Hemsida: www.vatorsec.se
Epost: ca@vatorsec.se
Om S2Medical
S2Medical AB (publ) är ett medicintekniskt bolag som utvecklar och säljer innovativa sårläkningsprodukter för hela sårläkningsprocessen med fokus på brännskador och kroniska sår. Bolaget har utvecklat eiratex®, ett nytt cellulosabaserat material för läkning av svåra brännskador och kroniska sår. Materialet läker sår effektivt och därmed minskar både lidande för patienter samt kostnader för hälso- och sjukvården.
Aktiens kortnamn: S2M
Aktiens ISIN-kod: SE0011725084